D & L Computer Services
Antique Radio Parts for Sale
Free shipping on everything we sell!

[ Tubes | Capacitors | Rider's Schematics | e-mail ]

Used Vacuum Tubes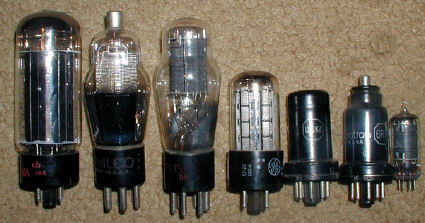 All tubes are tested on a Hickok model 600A tube tester and must test at least 2/3 (67%) of published new tube gm value, or above "Diodes OK" for diodes. Most test better than that. Tubes may or may not come in boxes, but most do. If you are not satisfied with any tube we send you, you may return it for a refund, less $.50 per tube handling charge. We have many other tubes. E-mails us with your needs.

| | | | |
| --- | --- | --- | --- |
| Tube Type | Qty Available | Price Each | Click to Add to Pay Pal Cart |
| 1J3 | 1 | $2.50 | |
| 1N5GT | 1 | $4.00 | |
| 3Q4 | 1 | $4.00 | |
| 5U4GB | 1 | $12.00 | |
| 6A8G | 2 | $10.00 | |
| 6AL5 | 1 | $2.50 | |
| 6AQ5A | 2 | $4.00 | |
| 6AS5 | 1 | $2.00 | |
| 6AT6 | 2 | $2.25 | |
| 6AU6 | 2 | $3.50 | |
| 6AU6A | 4 | $4.00 | |
| 6AV6 | 2 | $2.75 | |
| 6AX4GTB | 1 | $2.50 | |
| 6C4 | 2 | $4.50 | |
| 6CB6A | 1 | $3.00 | |
| 6EA8 | 1 | $5.25 | |
| 6GW6/6DQ6B | 3 | $5.50 | |
| 6J6 | 2 | $2.50 | |
| 6T8A | 2 | $2.50 | |
| 6X4 | 1 | $4.00 | |
| 7A8 | 3 | $3.50 | |
| 7B7 | 10 | $9.50 | |
| 7C5 | 2 | $7.50 | |
| 7N7 | 1 | $7.50 | |
| 7Y4 | 6 | $2.50 | |
| 12AU6 | 2 | $3.50 | |
| 12AV6 | 1 | $3.50 | |
| 12BA6 | 1 | $4.50 | |
| 12BE6 | 1 | $5.50 | |
| 50C5 | 2 | $4.50 | |
| 50L6GT | 1 | $6.50 | |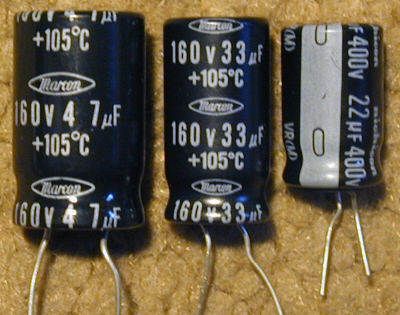 | | | | |
| --- | --- | --- | --- |
| Value | Qty Available | Price Each | Click to Add to Pay Pal Cart |
| 22 uf, 400 v | 10 | $1.50 | |
| 33 uf, 160 v | 2 | $1.50 | |
| 47 uf, 160 v | 2 | $1.75 | |

| | | |
| --- | --- | --- |
| Rider's Radio Schematics paper copy mailed to you. (Give make and model of radio in comments on order form.) | $2.50 | |
| Rider's Perpetual Troubleshooter's Manuals. Supplied as PDF files on CD. Price is per CD. We can put up to 5 volumes on a CD. Give volume number(s) desired in comments on order form. What years are covered in each volume? Click here. | $7.50 | |
Site last updated 10/30/2008